Park Forest, IL-(ENEWSPF)- On a night when the Park Forest Fire Department bid farewell to Captain Phillip Myers on his retirement, the department promoted three. One of the three is the PFFD's first-ever female lieutenant.
The board room was full on the second and final meeting of July. Family members, along with fire and police personnel, gathered to wish some of their long-serving members farewell. For the police, the evening saw recognition of Commander Lloyd "Lee" Elliott and Chief Paul Winfrey. The resolutions for those retiring are forthcoming.
Three from the PFFD rose to higher ranks. Village Clerk Shelia McGann administered the oath of office to Mark Cotrano as Deputy Chief, Taylor Bordewyk as Shift Commander/Paramedic, and Michelle Paradise as Lieutenant.
Department Promotes Three
Lieutenant Michelle Paradise
Lieutenant Michelle Paradise was sworn in first. Village Manager Tom Mick read the commendations for each officer. Lt. Michelle Paradise began her fire service career in 2004 as a cadet with the Richton Park Fire Department when she was a Sophomore at Rich South High School, Mr. Mick said.
"In 2007, she was certified as a FF II, and in 2009. She joined the Park Forest Fire Department in 2013. Over the years, Michelle has completed an associate's degree in Fire Science as well as obtained multiple certifications allowing her to serve as a member of the MABAS 27 Water Rescue Team. Michelle has been a recipient of several unit citations, meritorious commendations, and lifesaving awards throughout her career."
"Off duty," the Manager continued, "Michelle enjoys working on her 2005 Mazda Rx-8 and swimming in the pool with her family. She also enjoys talking shop with her twin sister and brother-in-law who are also area firefighters."
Lt. Paradise's wife Tristan Paradise pinned on her badge.
Shift Commander Taylor Bordewyk
Commander Taylor Bordewyk was next.
"Taylor Bordewyk began his fire service career in 2006," Mr. Mick said, "after working in the automotive industry and serving as a mechanic in the U.S. Army. He came to the Village of Park Forest in 2007 and has served in many positions, including the HAZMAT team, fire investigations, vehicle maintenance, President of the union board, and as a member of the statewide honor guard.
"Shift Commander Bordewyk is looking forward to the next phase in his career serving both the residents of Park Forest and the members of the department."
Commander Bordewyk's sons Mitchell and Patrick pinned his badge on.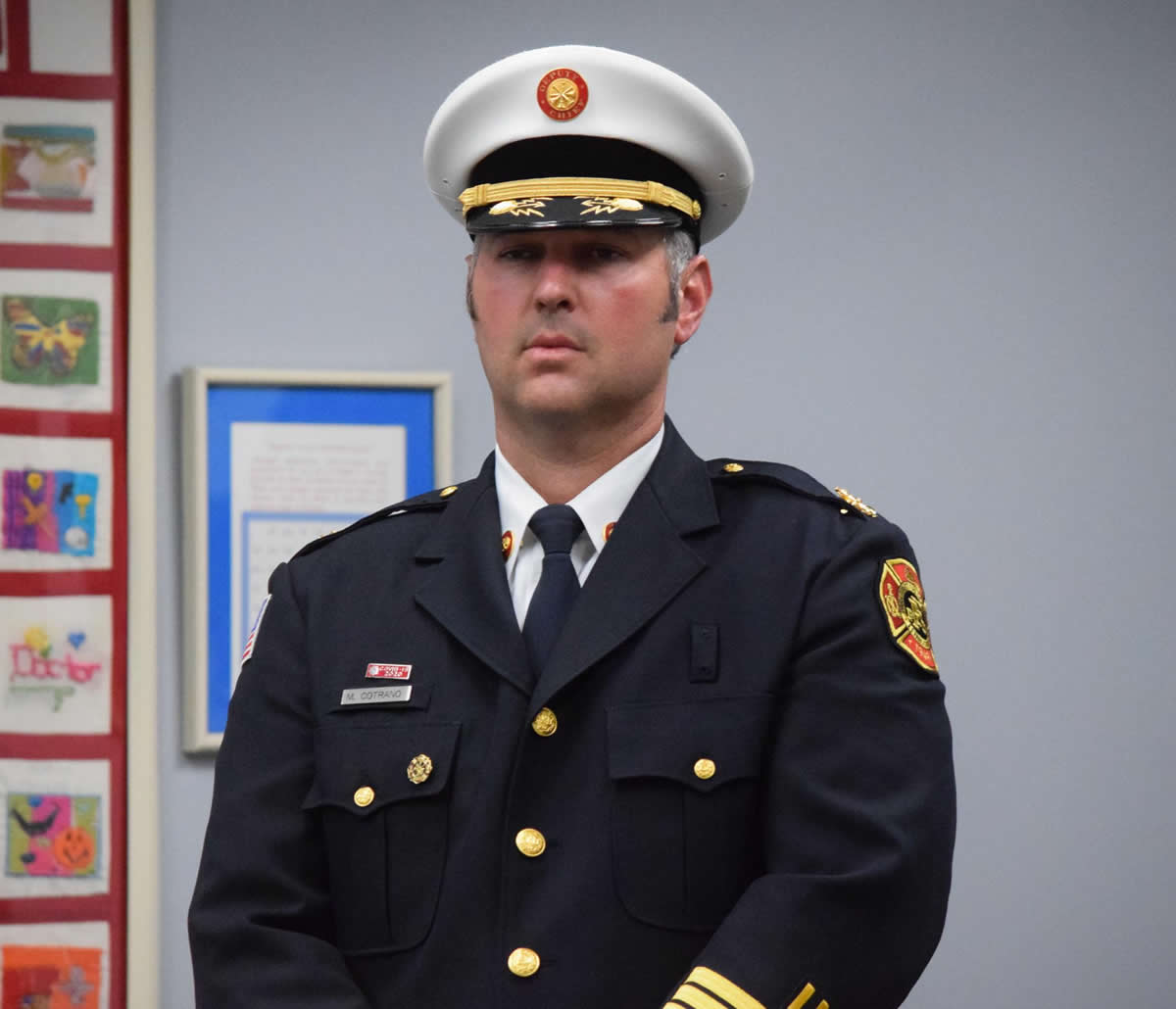 Deputy Chief Mark Cotrano
Deputy Chief Cotrano has been with the department since 2003, Mr. Mick began.
"Mark has been in the fire service since August 2003 and with the Park Forest Fire Department since August 2007. He holds a variety of fire service, officer, and special teams certificates. He earned his Bachelor's Degree from Southern Illinois University in Fire Service Management," Mr. Mick said.
"Mark was promoted to Lieutenant in August of 2016 and Shift Commander in January of 2021. Throughout his tenure with the department, he has worked hard to uphold the high standards of the Park Forest Fire Department. Mark looks forward to serving the Village in his new role as Deputy Chief. When Mark is not working, he enjoys spending time with his wife, Katie, and their five children."
Special Evenings in the Boardroom
It is worth showing up for these celebratory evenings in the board room. After everyone was sworn in, after Mayor Joe Woods read the resolutions commending those retiring, friends and family cleared the room. They took their celebrations elsewhere.
But the joy of recognizing them remained. There's a particular pride in being with these public servants as they move up in rank or depart for a well-earned respite.