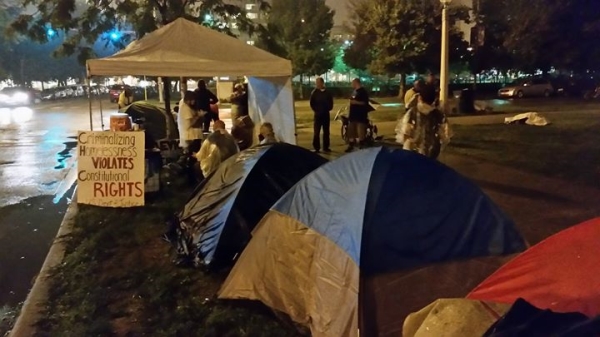 Judge Delays Homeless Testimony in Court, Enabling Police Harassment
CHICAGO, IL —(ENEWSPF)—June 7, 2018
In a devastating blow against the rights of homeless people in this city to assert their rights in public and protect themselves against the city's notoriously harsh climate, Judge Sidney Schenkier has dismissed all federal counts in a homeless rights suit against the City of Chicago.
Schenkier did so without hearing oral arguments from attorneys for plaintiffs Uptown Tent City Organizers (UTCO), let alone testimony from people who are homeless about how the City of Chicago's September 18, 2017 evictions of Uptown's Tent Cities and subsequent attacks citywide have harmed them.
"Before making his sweeping decision against not just Uptown's tent cities but all homeless people in the city, Schenkier displayed remarkable cluelessness about their situations," said Andy Thayer, a co-plaintiff in the suit with UTCO. "For example, in ruling against our Eighth Amendment case for an injunction against the City, he argued that homeless people could endlessly ride the el through the night in order to get the necessary sleep that all human beings require – even though doing so is illegal."
"In stating that there were no First Amendment issues at stake in the Uptown Tent City encampments, he conveniently ignored that the homeless people's bright orange tents became highly visible symbols of Mayor Emanuel's and 46th Ward Alderman James Cappleman's disregard for the homeless. The 50 to 100 people in the tent cities garnered far more media coverage than the rest of the 82,000 homeless people combined," Thayer continued.
While obviously disappointed with Schenkier's ruling, the team fighting the UTCO suit promised not to give up
"Yesterday, while Judge Schenkier failed to protect the most vulnerable members of our community, this is not over," said Alan Mills, executive director of Uptown People's Law Center. "The judge left the door open for us to fight another day in court, and we will."
Besides Mills, other pro bono plaintiff attorneys in the suit, Uptown Tent City Organizers and Andy Thayer v. City of Chicago, et al., No. 17 CV 4518, are Jeffrey Frank, Susan Ritacca Law Office, Nicole Schult of Uptown People's Law Center, the Law Office of Molly Armour, the Law Office of Adele D. Nicholas, and Mike Kanovitz of Loevy & Loevy Attorneys at Law.
A copy of Judge Schenkier's ruling can be found here.
Source: www.uplcchicgo.org