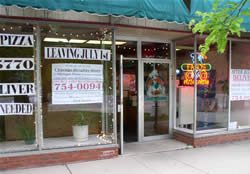 Park Forest, IL—(ENEWSPF)— Faso's Pizza, 208 Blackhawk Drive, spent their last day in Park Forest June 29 after being in operation for 36 years.
On May 1, owner's of the building in 200 block of Blackhawk Drive told the tenants, Faso's Pizza and Tower Cleaners they have until July 1 to move their business or pay taxes for additional rent.
Laura Faso, manager and daughter of the original owner said after looking in several areas, they were unable to find a suitable location for the store. Faso said the employees from the Park Forest location will be transferred to the Chicago Heights location in Olympia Plaza. Faso said they will try their best to continue to deliver to the Park Forest area.
"We have enjoyed serving the community for the past 36 years, unfortunately under the circumstances, we have to leave the community," Faso said. "We are hoping one day we'll be able to come back Park Forest."
Tower Cleaners, 210 Blackhawk Drive, will have an extension until things can be set up and moved to the future location at 230 Forest Boulevard, said owner Janet Fiorenzo. Fiorenzo expects the future location to be set up by August 15.