What's left when you lose everything? Beth Brecher and Alan Shnay found the goodness of neighbors, friends, family, and strangers.
Park Forest, IL-(ENEWSPF)- Elisabeth Brecher's dogs woke her up at about 4 a.m. one morning last month. She quickly learned that the house she shared with husband Alan Shnay and Godson Cordaro, was on fire. The family lost everything in the fire, including five pets. But they discovered an abundance of generosity and good will from neighbors and friends, and that has made an incredible difference.
"I feel like it was about 4 in the morning," Ms. Brecher recollected, "and I woke up to hear the dogs barking. I was in my bedroom. They were in the living room down the hall. So I went down the hall to yell at them and tell them to be quiet, and I was met part way down the hall with a wall of smoke. I tried to go on down the hallway and I saw some flames."
She said she ran back into the bedroom, closed the door, and woke her husband Alan Shnay, yelling, "Alan! Alan! There's a fire!"
"I thought maybe it could be something in the kitchen, like someone had a pizza box in the oven or something. Alan went down the hall after that and he saw flames too. He could tell that it was bad," she said.
She started screaming. "That woke up our Godson Cordaro, who was in the other bedroom, and he climbed out the front window. I'm not even sure how he got out," she said.
An off-duty police officer, Commander Devin Strahla, was passing by and heard the screaming, may have seen the smoke and flames, Ms. Brecher said. "He stopped and came to help. He helped Alan and me out our window."
"In the meantime, one of our large dogs had come into the bedroom and was in there with the door closed," Ms. Brecher said.
The fire department came and the police and it took quite a long time to put the flames out, Ms. Brecher told eNews Park Forest.
"One dog died, and our cats died," Ms. Brecher said. "We lost a total of five. We had four cats — all rescues, by the way. Four cats, one dog. There are two dogs remaining."
Park Forest Police praised Commander Strahla on Facebook, "This morning at approximately 5:00 am, Commander Strahla was driving into work to start his shift. While driving down Lakewood Boulevard, Commander Strahla observed a man standing outside screaming for help and a house with heavy smoke coming from the inside. Commander Strahla quickly assisted and was able to help two residents exit the burning house through a bedroom window. Commander Strahla then closed the window which gave the Park Forest Fire Department time to arrive on scene and enter the house to rescue the family pets, Bella (Great Dane) and Aubrey (English Mastiff) who are both rescue dogs.
"We are proud of and thankful for Commander Strahla whose actions and quick thinking this morning helped save the lives of some of our Great Citizens and their pets. Thank you to the Park Forest Fire Department for their quick response, rescuing of the family pets and putting out the fire. And thank you to all of the assisting Fire Departments that helped as well!"
"It was a miracle that any of us really survived because it was a terrible fire," Ms. Brecher continued.
"The neighbors were wonderful. The police and fire departments were wonderful. Everyone has been so great. I can't begin to say how amazing our entire neighborhood has been. Park Forest — the neighbors pulled together."
The house is a total loss. It will be demolished and rebuilt.
"We were not the owners of the house. My in-laws, Penny and Jerry Shnay are the actual owners," Ms. Brecher said. "They had insurance on the house. Unfortunately, we did not have renters insurance. So, the contents… it's a loss. And, right now, we don't know exactly where we're going to be living."
The did eventually find a rental in Matteson. "We were lucky enough, with the help of my father-in-law, Jerry Shnay, to find a rental in downtown Old Matteson. It's a cute little house on a nice street. It's been rehabbed. We're extremely lucky."
The family has a six month lease on the house in Old Matteson, with hopes that the house in Park Forest will be rebuilt within that time frame.
"The Red Cross — also wonderful — gave us a $600 cash card," Ms. Brecher said. Thanks to the cash card, the family was able to stay in a motel until the rental was available.
Transportation the day of the fire proved difficult as the couple's car keys were all in the house, lost in the rubble.
The back of the house showed most of the damage, but the inside was a loss.
The cause of the fire? "Electrical. The house was built in 1954. It had original wiring."
"It turns out there was a faulty electrical connection."
"If you say anything about this to anyone, please, make sure they know to get insurance. Very important."
Her son Grayson set up a GoFundMe page which has seen support from online visitors. But, again, without insurance, the family has a lot to replace.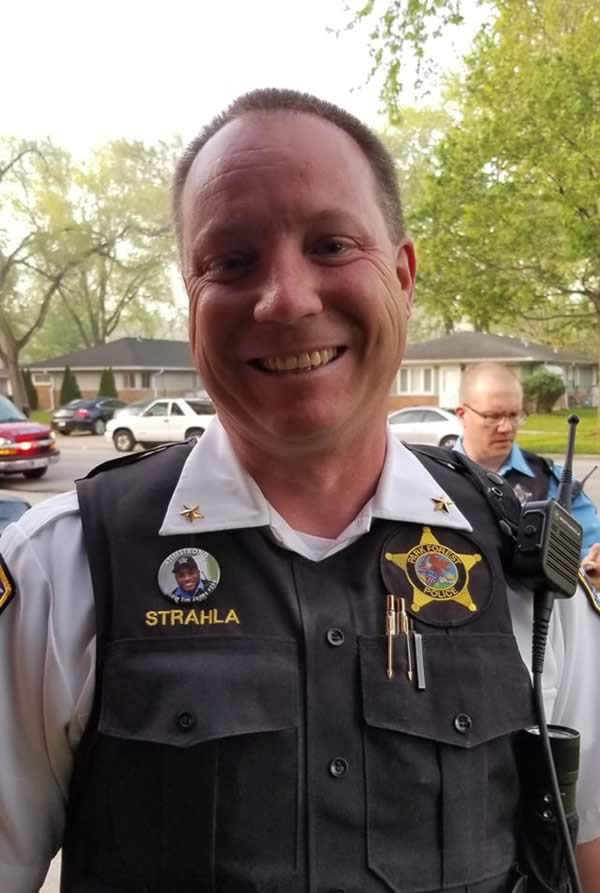 Regarding Commander Devin Strahla? "What a great guy, oh my goodness," Ms. Brecher said.
"He and Cordaro basically lifted us out of the window."
Cordaro had a couple of injuries from the fire. He went to the hospital to get checked out and was released. Husband Alan ended up in the hospital overnight from smoke inhalation. He is fine now.
"A small female firefighter carried out our English Mastiff. She was this tiny thing. Our English Mastiff weighs like 150 pounds," Ms. Brecher said. "This firefighter carried her out!"
Her other dog, Bella, a Great Dane, was revived by paramedics.
"They revived her, and she sort of staggered out, collapsed, and got revived again," she said. "So, those two are here at the rental house with us."
Again, she praised her neighbors, "The neighbors were wonderful, I have to say. It bears repeating."
The family lost everything, but found so much more in the aftermath of the tragedy.
"Friends, family, strangers, neighbors, everyone, has been wonderful," Ms. Brecher said. "From the Red Cross, who helped immensely, to everyone. They've given us so many donations. If there could be a blessing in disguise, this was it. I've never seen such an outpouring of kindness and generosity, ever. It's such a silver lining. It's beautiful."
The family's GoFundMe page is here.
Report a Typo: [email protected]