Park Forest, IL-(ENEWSPF)- Life Scout Jonathan Powell dedicated a Solitude Bench and garden he funded and installed in front of Blackhawk School. He did this as his Eagle Scout project. Surrounded by current and former scoutmasters, family, and Blackhawk students, the 17-year-old said, "Solitude is something we don't put enough attention on today." Jonathan's next step is to sit for a Scoutmaster Conference and Board of Review to hopefully approve his Eagle status.
Properly called a Serenity Learning Outdoor Garden, Blackhawk Principal Dr. Felix Anderson told those gathered that Mr. Powell's bench and the surrounding space would be a dedicated outdoor classroom for the students. Indeed, speaking to the students gathered. Dr. Anderson referred to the hopeful top-tier scout as "Mr. Powell."
Mr. Powell is a member of BSA Troop 342-Homewood. Jonathan led a team of scouts, scouters, and parents in assembling the planter bench for the school garden. The scout said his grandmother, also in attendance, helped plant the flowers growing in the planter at the side of the bench.
The Hopeful Eagle Scout Presents
Mr. Powell began his presentation by thanking his scout leaders and all who attended. The scout graciously praised the students present, "Some of you guys had a hand in making these beautiful stones that we have right here in front of the bench." He then asked the students to give themselves a hand.
He thanked Dr. Anderson for allowing him to place the bench in that spot and his family members present.
The Life Scout said the purpose of the bench is to allow a place for solitude.
"Life moves so fast, and I feel that some people just need to sit down" and gather their thoughts sometimes, Mr. Powell said. And that's the purpose of the space he created, he said in concluding his remarks.
Principal Anderson presented Mr. Powell with a certificate on behalf of Blackhawk Primary Center. "We've heard so much about you and your efforts," Dr. Anderson said. "I was a den leader for a few years as well, so I know how diligent and how hard it is to get to where you are."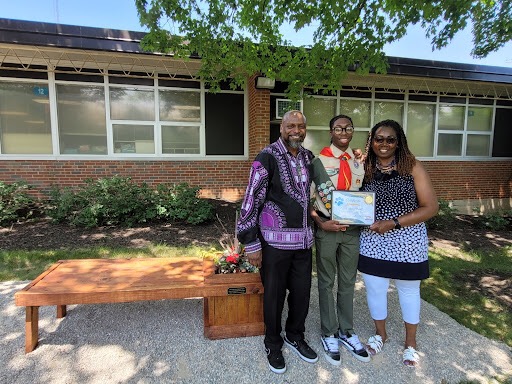 Bench and Garden to Serve as an Outdoor Classroom
Dr. Anderson dubbed the Serenity Learning Outdoor Garden an outdoor classroom.
"Students will be out here now using this as an outdoor class for engagement and instruction," the principal said.
Jonathan will attend Morgan State University in the fall. He plans to study multiplatform production.
In attendance was Mick Gaughan, Assistant Scout Master for Troop 342. Other scoutmasters and former scoutmasters in attendance were Dean Flagler and Tory Wallace. Ms. Evelyn Phares, a Cub Master, also attended. Cherrie Washington, an Assistant Cub Master, also came for the gathering. After-School X-Team Teacher Ms. Tasha Stone accompanied the students.
Only 4% to 6% of all scouts make it to Eagle Scout. This will put Mr. Powell in an elite group of roughly two million scouts earning the distinction since 1912. After meeting him and seeing his leadership skills at this presentation, we are hopeful — and confident — that he will succeed.