Springfield, IL-(ENEWSPF)- Yesterday, we wrote that there appeared to be hope that Springfield might actually pass a budget. The Dems seemed to hold out hope. The GOP saw 'Déjà vu all over again,' and the Governor promised a veto.
The unlikely optimism from House Speaker Michael Madigan: "Today, Democrats and Republicans stood together to take a crucial step toward reaching a compromise that ends the budget crisis by passing a fully funded state budget in a bipartisan way. While none could say this was an easy decision, it was the right decision; it's clear that a budget package that cuts billions of dollars in state spending and also provides new revenue is the only path forward. I'm grateful legislators worked together to provide for our schools, protect medical care for the frail elderly, services for survivors of domestic abuse and others in great need.
"There is more work to be done, and we will continue working with Republicans to ensure the issues still on the table are fully resolved."
House GOP Leader Jim Durking appeared less hopeful: "You have all heard the following statement: 'it's Déjà vu all over again.'  It has never been more true than today. What transpired is a repeat of the Illinois Democrats infamous temporary tax of 2011, with the only difference being today's tax increase is permanent  – yes, permanent. These votes confirm that the Illinois Democrats will never accept change and are only interested in the status quo – the status quo that placed Illinois in this squalid condition. The fight for Illinois families, workers and employers is not over."
Governor Bruce Rauner offered a lengthy statement on his Facebook page, promising a veto of the revenue plan.
"When I took office, I promised the taxpayers of Illinois that I would fight every day to take this state in a new direction after decades of failed leadership from both parties," Gov. Rauner wrote. "Today, Springfield has decided to give the people of Illinois the largest tax hike in history and continue out of balance budgets with no real reform."
Governor Rauner certainly has take the state in a new direction. Since July 1, 2015, the state of Illinois has been without a complete budget. This "new direction" Rauner promised also includes the state having its credit rating reduced to junk status.
Such a proclamation is just hours away.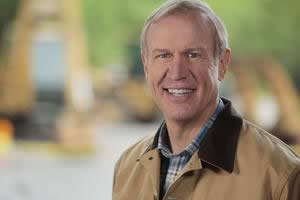 But, the governor blames Speaker Michael Madigan, "Under Speaker Madigan's direction, legislators chose to double down on higher taxes while protecting the special interests and refusing to reform the status quo. It's a repeat of the failed policies that created this financial crisis and caused jobs and taxpayers to flee."
And, the promise to veto, "I will veto Mike Madigan's permanent 32 percent tax hike. Illinois families don't deserve to have more of their hard-earned money taken from them when the legislature has done little to restore confidence in government or grow jobs. Illinois families deserve more jobs, property tax relief and term limits. But tonight they got more of the same."
For the record, "fifteen Republicans joined majority Democrats in the 72-45 vote for the tax increase, providing one more than the three-fifths majority necessary for the law to take effect immediately," the Associated Press reports.
"For two and a half years we have been working to find common ground on a balanced budget. As recently as two days ago we believed that was possible," Rauner continued.
One Republican who voted for the tax increases said the state could not continue run up billions of dollars in red ink.

"Stop playing 'chicken' with the fifth-largest state in the union," said Rep. David Harris, a suburban Chicago Republican. "I was not elected as a state legislator to help preside over the destruction of this great state!"
"The legislature could have passed a no reform budget like this one two years ago," Rauner concluded his statement. "Instead, they allowed Mike Madigan to play his political games, passed phony budgets, racked up our debt and inflicted pain on the most vulnerable. All of this to force a permanent, 32 percent tax increase on Illinois families.
"Moving forward, this vote shows that if the legislature is willing to pass the largest tax hike in state history with no reforms, then we must engage citizens and redouble our efforts to change the state."
Killing this measure will kill hopes for a budget in Illinois.
The only "Déjà vu all over again" will be another year without a budget, a state about to collapse.
And that will kill other things, far beyond pork programs. Killing this measure will kill social programs, life lines for those who have the least in this state. It will kill much-needed construction programs.
And "junk status" will not be something Illinois will be able to walk back from any time soon, if it finally happens.
This intransigent governor has contributed nothing. He has been a complete and total failure.