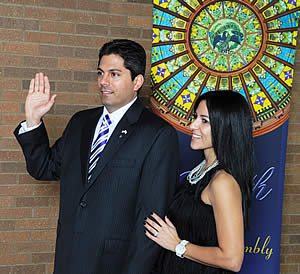 Springfield, IL-(ENEWSPF)- Politicians must often act as their own promoters, creating and marketing their own brands. Rep. DeLuca issued a statement Tuesday touting the "positive financial impacts gaming expansion is having for communities," and his own role in growing that revenue for Chicago Heights.
State Rep. Anthony DeLuca, D-Chicago Heights, certainly has much to draw on since he first took office in 2009. A Republican prior to his appointment, DeLuca was appointed to the office of state representative in 2009 to fill the vacated seat of former state Rep. George Scully, who was appointed as judge. He was elected to his first full term in the state legislature in 2011.
"During my time as Mayor of Chicago Heights, I successfully led negotiations for my hometown to be selected as one of ten communities to receive annual portions of gaming revenue generated from the Rivers Casino in Des Plaines," DeLuca stated in the release. "Since 2011, the City of Des Plaines has annually sent Chicago Heights dollars totaling over $10.5 million due to this agreement," DeLuca continued.
DeLuca also said in the statement, "While this agreement with the City of Des Plaines is a significant financial boost for Chicago Heights, it was illegal for small business owners and fraternal organizations to have video gambling in their establishment prior to 2012. Since the recent change in law, many small business owners and organizations in Chicago Heights have now installed video gambling machines resulting in over $750,000 in additional revenue for the city."
Chicago Heights has secured a whopping $11.3 million in revenue from gambling sources that otherwise wouldn't be available, according to DeLuca. This added revenue benefited the police and fire departments, roads, and other vital services,  "all while helping to ease the burden of property taxes," the statement said.
"I will continue to explore creative ways in which we can help our municipalities across Illinois generate much needed additional revenue," DeLuca said in the statement.