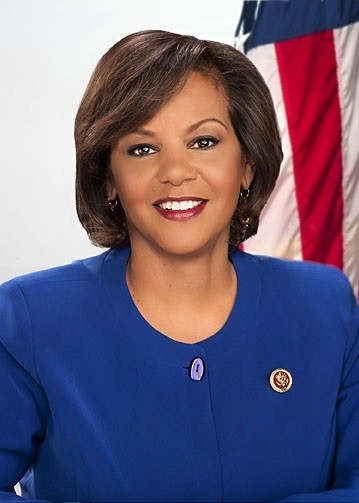 CHICAGO—(ENEWSPF)—May 4, 2018
By: James Lewis, Communications Director
Congresswoman Robin Kelly held her second Solutions Only Congressional field inquiry on trafficking, particularly the trafficking of persons, drugs, illegal guns and their intersectionalities.
"Chicago is truly the crossroads of America. This status brings us amazing economic wealth and opportunity, but it also means that our transportation infrastructure is regularly used by criminal elements to traffic narcotics, illegal firearms and people," said Congresswoman Kelly. "We have an obligation to tackle trafficking head on and prevent our infrastructure and transportation networks from being used to facilitate crimes and modern day slavery. The goal of today's Congressional field inquiry was to bring together experts, advocates and law enforcement officials to help policymakers craft better, more effective legislation to stop and prevent trafficking."
The inquiry was livestreamed on the Congresswoman's Facebook page. Photos of the event are available by contacting Mary Paleologos ([email protected]).
Inquiry participants included:
Congresswoman Robin Kelly;
Elizabeth Fisher, President and CEO of Selah Freedom;
Glen Brooks, Director of Community Policing, Chicago Police Department;
Bradley Chief of Police Michael Johnston;
Jordan Mitchell, Director of Freedom in Action;
Robert Mason, Support Services Commander, Bradley Police Department;
Melissa Duplantis – Director of Behavioral Health at Chicago Family Health Center;
Sherida Morrison, CEO of Demoiselle to Femme, NFP; and
Hazel Crest Chief of Police Mitchell Davis.
At the inquiry, Congresswoman Kelly highlighted her longstanding support of and efforts to bring Department of Justice Community-Orientated Policing (COPS) funds to the Second Congressional District. In November 2017, Congresswoman Kelly announced $3.75 million in COPS grants funding for the Second District, including Chicago, Lansing and Country Club Hills. These resources helped to hire or retain 30 officers focused on rebuilding police-community relations.
Additionally, she highlighted her efforts to pass the Reducing the Demand for Human Trafficking Act, a bipartisan bill introduced by Congresswoman Kelly and Congressman Adam Kinzinger (R-IL16). The legislation encourages a more survivor-centric approach to tackling human trafficking while expanding resources to address the demand side of this illicit market.
"It's clear from today's inquiry that we need to keep this conversation going – and we will," said Congresswoman Kelly. "I'm not backing down on this issue. I'm going to keep it front and center as we work, together, throughout the Second Congressional District to empower families."
Following the inquiry, Congresswoman Kelly shared nine ideas that developed from the Congressional inquiry on Twitter:
#SolutionsOnly Idea 1: Increase awareness about sex trafficking. This is something EVERYONE can do in their community that will have an immediate impact.
#SolutionsOnly Idea 2: Improve coordination between service providers, law enforcement and the community. We should consider developing a directory of organizations and services.
#SolutionsOnly Idea 3: Provide law enforcement officers with tools to help survivors 24 hours a day. We can't just give them a card and tell them to call Monday morning at 9am.
#SolutionsOnly Idea 4: We simply need more resources, at all levels, to tackle trafficking, support survivors and prevent people from falling into the life.
#SolutionsOnly Idea 5: Ensure that training is gender responsive since both young women and young men are affected by trafficking but need different services and resources.
#SolutionsOnly Idea 6: Increase mental and behavioral health funding.
#SolutionsOnly Idea 7: Link service providers with law enforcement to cooperate and provide immediate services to survivors.
#SolutionsOnly Idea 8: Provide, mandate and fund regular training for law enforcement officers, health providers and others to identify survivors and connect them with needed services.
#SolutionsOnly Idea 9: Keep this conversation going. We need to come together more so we can network, share ideas and find out what works best.
Source: www.robinkelly.house.gov