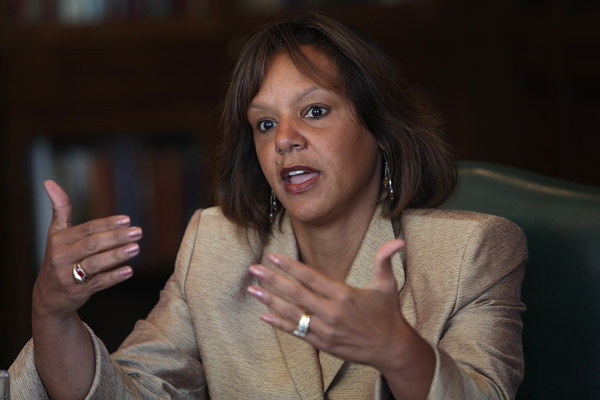 Matteson, IL-(ENEWSPF)- Congresswoman Robin Kelly (IL-02), Vice Chair of the Congressional Gun Violence Prevention Task Force and Chair of the Congressional Black Caucus Health Braintrust, launched a survey for constituents to share their personal experiences with the gun violence epidemic. Rep. Kelly has introduced a resolution to mark June as Gun Violence Awareness Month in honor of Hadiya Pendleton, who was killed in Chicago in 2013.
"Unfortunately, our district is all too familiar with the terrible gun violence epidemic," said Rep. Kelly. "Just this weekend, 60 people were shot in Chicago, including an 11-year-old girl in Pullman. As I continue working to advance gun violence prevention legislation in Washington and advocate for community-based violence prevention programs, I want to hear directly from my constituents about their personal experiences with gun violence."
Rep. Kelly encourages constituents living in Illinois' Second Congressional District to participate in the survey here.
Rep. Kelly's recent work on gun violence prevention
This Congress, Rep. Kelly has introduced several gun violence prevention bills in addition to advocating for increased funding for community-based violence intervention programs.
In March, Rep. Kelly introduced the Prevent Gun Trafficking Act to combat illegal gun purchases and transfers. This bill would specify the prohibition of straw purchasing of firearms, making straw purchasing a federal crime. The bill would also require the Attorney General to ensure that gun purchasing transactions clearly state the penalties for violating federal anti-trafficking law.
The Recognizing Gun Violence as a Public Health Emergency Act was reintroduced in February. This bill would require the Surgeon General to submit an annual report to Congress on the public health impacts of gun violence. The report would collect data on the deaths, disabilities, mental health impacts and economic hardships stemming from gun violence.
The Keeping Guns from High-Risk Individuals Act was reintroduced in February and would prohibit the sale or transfer of guns to individuals who have been convicted of certain aggressive and high-risk behaviors.
The Firearm Safety Act would bring guns and ammunition under the jurisdiction of the Consumer Product Safety Commission (CPSC). This common-sense reform would allow the CPSC – which already oversees hazardous products that pose a threat to American consumers – to issue safety standards for guns and ammunition that will help reduce gun-related deaths.
In April, Congresswoman Kelly hosted a Virtual Health Summit on Gun Violence where she was joined by Senators Dick Durbin and Richard Blumenthal, Congresswoman Jan Schakowsky, former U.S. Secretary of Education Arne Duncan, Chicago CRED, gun violence prevention activists and gun violence survivors. Rep. Kelly and her colleagues heard testimony from gun violence survivors and community interventionists on the importance of stopping the near-daily gun violence seen in Chicago and in localities across the country.
Participate in the survey here.
This is news from Congresswoman Robin Kelly's office.