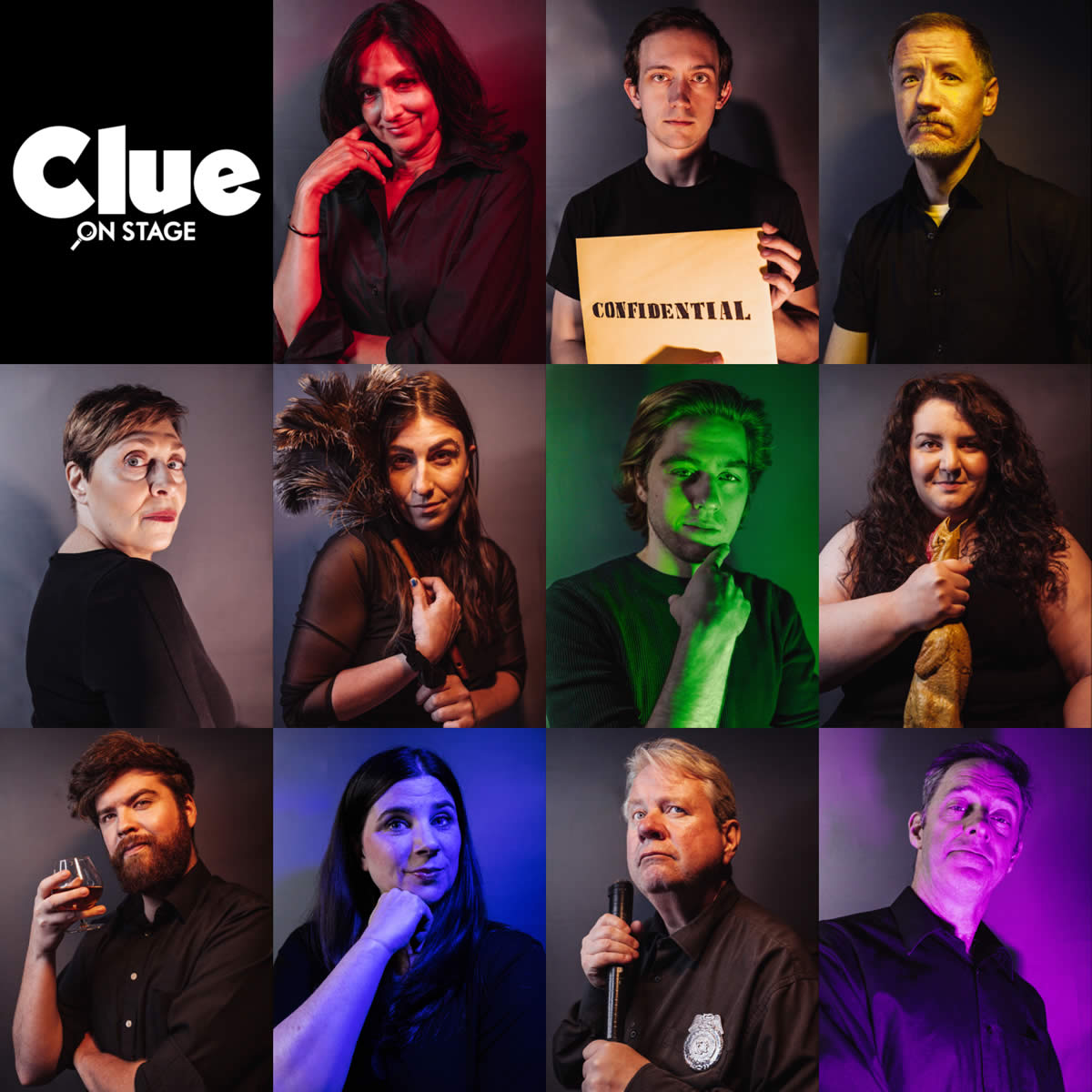 Chicago Heights, IL-(ENEWSPF)- The Drama Group is wickedly excited to present this cult-fan-mystery-murder next in our 91st season, CLUE On Stage – directed by Jim LaPietra and populated with the list of usual suspects. The book was written by Sandy Rustin, based upon the works by Jonathan Lynn, Hunter Foster, Eric Price, and let us not forget the board game.
Show times for CLUE On Stage are 7:30 pm beginning Friday, June 9, 10, 15, 16 and 17; Sunday matinees at 2:00 pm June 11 and 18.
The Drama Group now has an online ticketing service! We are using BookTix Ticketing and Livestreaming. All tickets are available by going to The Drama Group BookTix website dg.booktix.com, where you will be directed to set up your account with "The Drama Group-BookTix Box Office." Or you may always opt to call our Box Office at 708-755-3444.
SYNOPSIS: CLUE on Stage
Based on the iconic 1985 Paramount movie inspired by the classic Hasbro board game, Clue is a hilarious farce-meets-murder mystery. The tale begins at a remote mansion, where six mysterious guests assemble for an unusual dinner party where murder and blackmail are on the menu. When their host turns up dead, they all become suspects.
Clue is the comedy whodunit that will leave both cult fans and newcomers in stitches as they try to figure out…WHO did it, WHERE, and with WHAT!
Come and see if you can figure out "whodunit!"
CAST
| | | |
| --- | --- | --- |
| NAME | CHARACTER | TOWN OF RESIDENCE |
| Emil Ginter | Wadsworth | Chicago, IL |
| Samm Hilger | Yvette | Worth, IL |
| Joe Hoyt | Col. Mustard | Flossmoor, IL |
| Regina Gadotti | Mrs. White | Chicago Heights, IL |
| Meghan Hoyt | Mrs. Peacock | Flossmoor, IL |
| R J Cecott | Mr. Green | Hickory Hills, IL |
| Tim Gannon | Prof. Plum | La Grange Park, IL |
| Linda Cunningham | Miss Scarlet | Burr Ridge, IL |
| Dan Blewitt | Mr Boddy/Motorist/Chief | Crete, IL |
| Emily Gulbrandsen | Cook / Telegram Girl | Hobart, IN |
| Michael McDonnell | Unexpected Cop | Cedar Lake, IN |
| | | |
| PRODUCTION STAFF | POSITION | TOWN OF RESIDENCE |
| Jim LaPietra | Director | Berwyn, IL |
| Mary Ellen Fawk | Assistant Director | Chicago Heights, IL |
| RJ Cecott | Violence Coordinator | Hickory Hills, IL |
| Russ Hoganson | Set Designer | Homewood, IL |
| Jordyne Pippenger | Lighting Design | Naperville, IL |
| Jennifer Larkin | Asst. Light Design | New Lenox, IL |
| Jimmy Poynton | Sound | Hickory Hills, IL |
| Diane Principe | Costumes | Crete, IL |
| Regina Gadotti | Hair and Make Up | Chicago Heights, IL |
| Bob Sullivan | Construction Lead | Homewood, IL |
| Barb Whitney | Paint Chair | Richton Park, IL |
| Andy Leahy | Props and Décor | Chicago Heights, IL |
| Arlene Freeman | Asst Props and Décor | Homewood, IL |
| Chuck Kaffka | Stage Manager | Tinley Park, IL |
| Jim LaPietra | Production Manager | Berwyn, IL |
| Diane Kaffka | Marketing | Tinley Park, IL |
| Tina Zagone | Publicity / Marketing | Olympia Fields, IL |