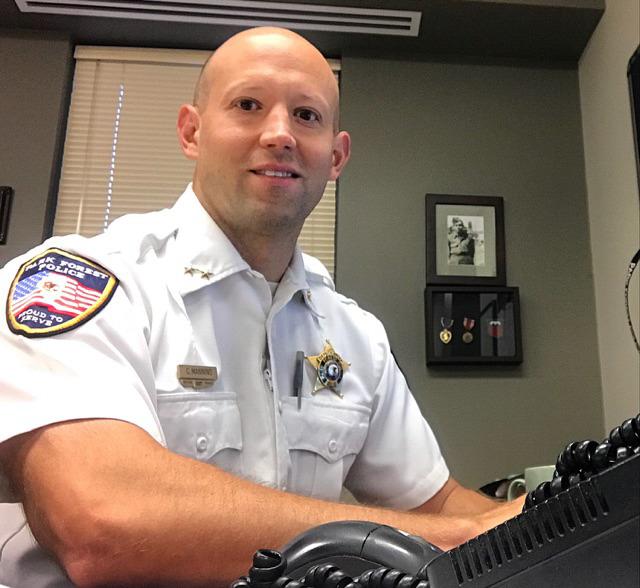 Park Forest, IL-(ENEWSPF)- Over the past few months, the number of carjackings occurring throughout the country, and especially in the Chicagoland area, has dramatically increased. A recent report by the Chicago Tribune revealed that carjackings in Chicago rose by 135% last year, from 603 in 2019 to 1415 in 2020.  Incidents have occurred in all parts of the area with one of the highest profile cases involving the fatal shooting of a retired Chicago Fire Department lieutenant during a carjacking in December of 2020 in the Morgan Park area.
Fortunately, Park Forest has not seen a carjacking since last summer, but residents need to know what precautions to take to avoid potential carjacking situations as well as what to do in the event they are a victim. eNews Park Forest talked with Park Forest Police Chief Christopher Mannino to get his thoughts and recommendations.
According to the Chief, carjackings can happen at any time, in any location, and to any vehicle type, so there is never a time to let down your guard. Scan the area as you approach your vehicle, and lock the car doors as soon as you get in. When parking, avoid remote or dimly lit areas and again, be aware of anyone else in the area.
First and foremost, Mannino advises that residents remain observant of their surroundings as well as to trust their instincts. Be aware of people who seem to be watching others without reason. If the situation seems concerning, do not take a chance – leave the area immediately.
If you are approached by a carjacker, your safety is the top priority. Chief Mannino says you should not resist the carjacker, especially if they are armed. Surrender your keys and wallet if asked and move away from the vehicle to a safe location where you can call 911 for assistance. The only time a victim should resist is if they are being physically assaulted. Try to remember as many details as possible to assist the police in their investigation.
One tactic used by carjackers is to use their vehicle to tap the rear bumper of a car and then carjack the bumped vehicle when the driver pulls over to examine the damage. Again, Chief Mannino's advice is to trust your instincts – if something does not feel right, do not pull over or get out of your car. Call 911, report the situation with as much detail as you can including your location, and get guidance from the 911 dispatcher as to what you should do. Mannino pointed out that many drivers are unaware that is permissible to call 911 while driving in an emergency.
For the past several years, Park Forest Police have urged residents not to leave their vehicles running and unattended. While remote start systems that shut the engine off automatically when the door is opened are allowed, Chief Mannino reminds residents that the act of warming up your vehicle gives anyone observing your car a heads-up that you will be arriving momentarily with the keys.
Carjackings can be violent, traumatic events, even if there is no bodily harm.  Chief Mannino recommends residents to take precautions mentioned and to stay alert.  If you are confronted, stay calm and do not resist unless physically attacked.  Your safety is more important than any material object.