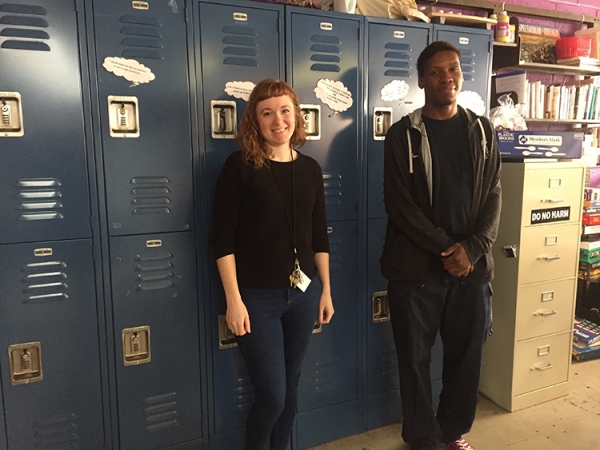 755 additional safe storage options across 22 shelters, drop-ins and schools throughout city
CHICAGO—(ENEWSPF)—August 21, 2018
In 2015, the Chicago Youth Storage Initiative (CYSI) was born after several LGBTQ youth shared a need for more storage options at homeless shelters at a youth summit hosted by Tracy Baim, editor and publisher of Windy City Times. At the time, only 40 units existed, despite there being an estimated 12,186 young people experiencing homelessness in Chicago on a nightly basis. Three years later, CYSI will have completed installation of an additional 755 safe storage options across 22 shelters, drop-ins and schools in all regions of the city, triple their initial goal.
CYSI is a success story for a number of reasons, including:
it developed as a result of young people sharing a need, which funders heard thanks to Baim and her summit;
it made visible the critical importance of storage in the chain of life-changing services needed by young people experiencing homelessness, illuminating the previously under-recognized (sometimes unrecognized) need for storage solutions;
with no time to waste, the process moved swiftly as the initiative helped organize a motivated group of collaborative funding partners who leapt at the opportunity to do something about the need locally and thereby creating the first coordinated program of its kind in the country;
it recognized the need to document the process since the group quickly realized this initiative could be replicated in other cities around the country and world, and relatively inexpensively. As a result, the team created a toolkit with findings and advice so others interested in creating storage programs for people experiencing housing instability and homelessness could review what challenges need to be faced and what opportunities existed to help make this a success in their own communities;
finally, it delivered what the community needed, based on what could be possible given certain space restrictions, and added 755 much-needed and much-used storage units throughout the city. These storage units, so far, have been accessed 31,453 times by young people that would have otherwise stashed their stuff in abandoned buildings or wherever they could find, or been forced to haul it around with them hour by hour. A large part of the success of the initiative was due to it being supported by a funders collaborative with an engaged steering committee that was flexible and continuously incorporated learnings from youth and practitioners in order to build the necessary resources and promote the initiative beyond the initial group of foundations.
The Chicago Youth Storage Initiative, a project that was sparked by a poem by youth activist Breezy Connor at the close of the 2014 Windy City Times summit, celebrated its wind down June 26 at the Godfrey Hotel. Fittingly, Connor attended the celebration and read her poem again to the audience which included many of the funders and Steering Committee members responsible for its success, including Marianne Philbin and Heather Parish of the Pierce Family Foundation, Debbie Reznick of Polk Bros. Foundation, Lester and Becky Knight of the Knight Family Foundation, Jeanne Kracher of Crossroads Fund, Mignon Stewart from Prince Charitable Trusts and community activist Michael Mock. Also in attendance was Lara Brooks, CYSI's first project director whose early work included conducting a comprehensive needs assessment, with youth, to look to a range of solutions, as well as Megan Wickman, who took over as project coordinator when Brooks moved to San Francisco.
In addition to 755 storage devices (ranging from full-size lockers to locking phone-charging stations), the project also worked with Google to create safe access to online storage for important documents and photos.
CYSI has passed the torch for the work and future management of the project to LYTE Collective, a grassroots program now renovating a building complex in Grand Crossing on Chicago's South Side. They will have 200 storage units in addition to many other services for youth experiencing housing instability and poverty.
To be sure, CYSI's mission was not just about storage—though safe storage was what youth asked for so they could experience less stress about their belongings, less theft and less violence. The mission also included providing low-barrier ways for youth experiencing housing instability to enter into support services and get additional help they needed. In some cases, CYSI also helped provide laundry machines at facilities that were able to utilize them.
Though the project started out of the LGBTQ summit, CYSI has always been about lifting up all youth, inclusive of LGBTQs, who make up anywhere from 20-40 % of the youth homeless population. Agencies receiving storage support included Mercy Home for Boys & Girls, Teen Living Programs, Broadway Youth Center at Howard Brown Health Center, El Rescate at the Puerto Rican Cultural Center, La Casa Norte, Center on Halsted, The Night Ministry, Brave Space Alliance and Northwest Compass.
The CYSI Storage Toolkit will be made available free through LYTE Collective, for agencies locally and nationally that serve any population facing housing instability. The report will be listed soon here: www.lytecollective.org/lyte-lounge/.
The original needs assessment done with youth can be found here: http://www.windycitymediagroup.com/pdf/CYSI-Report-Digital-05-15-15.pdf.
Source: www.windycitymediagroup.com