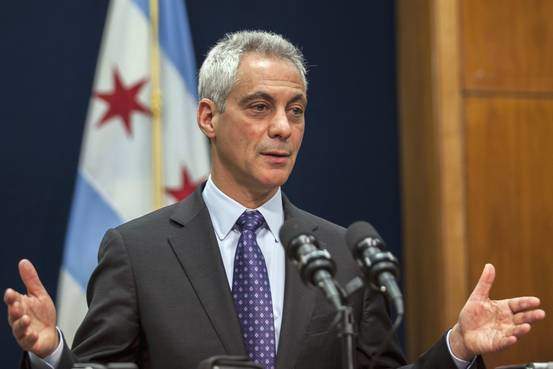 CHICAGO—(ENEWSPF)—September 4, 2018
By: Rosemary Piser
After eight years in office, Chicago Mayor Rahm Emanuel announced today that he will not seek re-election. Emanuel had previously indicated that he would run for a third term and had already raised more than $10 million in campaign funds.
At the announcement, Emanuel said, "I've decided not to seek re-election. This has been the job of a lifetime, but it is not a job for a lifetime."
Emanuel has become unpopular with many voters, particularly African-Americans, for the way he handled the Laquan McDonald police shooting controversy which ultimately led to a federal civil rights investigation of the police department, as well as accusations of a city hall cover-up and weeks of street protests calling for Emanuel's resignation.
As a result of the investigation, Emanuel has overseen widespread changes within the police department, including naming a new superintendent, overhauling training and instituting the use of body cameras while equipping all officers with tasers. Emanuel also is in the midst of negotiations with Illinois Attorney General Lisa Madigan over a consent decree that would place the authority of reforms in the Chicago Police Department with a federal judge.
Voters were also upset with record property taxes instituted to shore up Chicago's underfunded police employee pension fund, closing more than 50 public schools and the ongoing problem of gun violence in the city.
Twelve challengers already have announced their candidacies. They include former Police Board president and onetime federal prosecutor Lori Lightfoot, former Chicago Public Schools CEO Paul Vallas, former Chicago police Superintendent Garry McCarthy, millionaire businessman Willie Wilson, activist Ja'Mal Green, Cook County Circuit Court Clerk Dorothy Brown, Chicago principals association President Troy LaRaviere, tech entrepreneur Neal Sales-Griffin, policy consultant Amara Enyia, attorney John Kozlar and pharmaceutical technician and DePaul student Matthew Roney.
Illinois House Speaker Michael J. Madigan released the following statement Tuesday following Emanuel's announcement:
"I want to thank Rahm Emanuel for his service to our city as a member of Congress, as chief of staff to President Obama, and most notably as our mayor.

"Mayor Emanuel offered steady leadership through difficult times. His efforts to balance the budget, stabilize pensions, and make tough decisions consistently reflected his commitment to do what was best for the future of our city, not what was easy. As Chicago continues to move forward and grow as an international city, we will remain grateful for Mayor Emanuel's leadership."
Sources: www.cityofchicago.org, Office of Speaker Madigan
Related Article:
Durbin Statement On Mayor Rahm Emanuel's Decision To Not Seek Re-Election