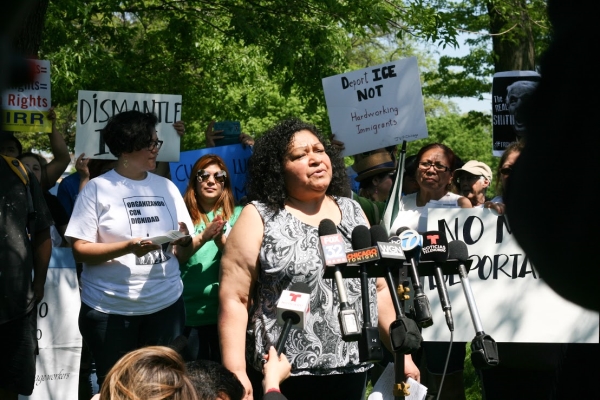 After 20 to 40 workers and residents were detained last weekend, as part of a series of regional raids, immigrants pledge to expose ICE civil rights violations and make 'every corner a Sanctuary'
Chicago, IL—(ENEWSPF)–May 24, 2018
More than 100 members of Chicago's immigrant community gathered to protest racial profiling and civil rights violations at the intersection of 47th Street and Western Boulevard, a day labor hiring site where immigration agents detained dozens over the weekend.
Immigration agents approached workers for no other reason than standing in a public place, looking for work while Latino, according to numerous witnesses.
"This is racial profiling, led directly by Chicago ICE Field Director Ricardo Wong," said Latino Union Executive Director Analía Rodríguez. "ICE is confusing language and skin color with probable cause."
The agents arrived at the hiring site at 9:30 a.m. Saturday and took them into custody. They then left the hiring site, detained others in the neighborhood, and returned to the hiring site to detain more workers around 10 a.m. before returning to detain more workers around 10 a.m.
Between 20 and 40 community members were taken into custody, according to a worker who was detained close to the start of the raids. Many of those detained were day laborers, who use the hiring site to seek employment in construction and landscaping.
Said Don Villar of the Chicago Federation of Labor: "Day labor hiring sites like this one are workplaces like any other, places where people come every day to support their families — places where we all deserve to be safe, to earn a living wage, and to be free from fear."
The raid is believed to be part of an ongoing Immigration and Customs Enforcement operation that has not yet ended. Anyone who is targeted by ICE or whose loved ones have been detained is encouraged to call 1-855-HELP-MY-FAMILY.
In some recent raids, ICE officers have asked individuals for their identification or place of birth without identifying themselves as immigration agents. Community members can protect themselves by asking if they are free to leave, and by not sharing any information with law enforcement other than their names.
"We must remember that we have tools to fight back," said Reyna Wences, an organizer at Organized Communities Against Deportations. "We come from a long history of resistance against the harm inflicted in our communities by deportations, ICE and all other law enforcement agencies. We will continue to stay vigilant. We will continue to organize and fight back. We will continue to resist the targeting and separation of our communities."
The Latino Union of Chicago collaborates with low-income immigrant workers to develop the tools necessary to collectively improve social and economic conditions.
PASO – West Suburban Action Project (Proyecto de Acción de los Suburbios del Oeste) is a community-based social justice organization that works to engage community members to address issues that affect them, their families, and neighbors with the mission to build stronger communities where all residents can live dignified lives regardless of their race, gender, sexual orientation, socioeconomic or immigration status.
Organized Communities Against Deportations (OCAD) is an undocumented-led group that organizes against deportations, detention, criminalization, and incarceration, of Black, brown, and immigrant communities in Chicago and surrounding areas. Follow us at @OCAD_CHI
Source: www.organizedcommunities.org