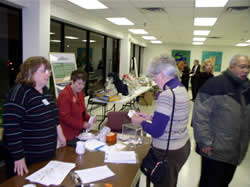 Main Street Nights Immediately Follows
Park Forest, IL—(ENEWSPF)— The Matteson Area Chamber of Commerce will sponsor a Progressive Business After Hours this evening in Downtown Park Forest. The event is being held at Dining on the Green from 5 – 7 p.m.
So far 19 local businesses are scheduled to participate. There will be food at various locations throughout the Downtown area, and includes many opportunities to win prizes. Raffle prizes include White Sox tickets, three gift baskets valued at over $100, four sets of theater tickets, art by local artists valued over $100, and sterling silver earrings with precious stone valued over $100. eNews Park Forest donated White Sox tickets for the raffle.
Members of the public are invited to attend and participate in raffle drawings as well. Participants are invited to remain for Park Forest's Main Street Nights which begin at 7 p.m. on the Village Green.
A similar event held last November drew 11 participating businesses.
The Matteson Area Chamber of Commerce serves the communities of Park Forest, Matteson, Olympia Fields, Richton Park and University Park by promoting a favorable business climate, supporting opportunities for economic development and serving as a voice for all local businesses.