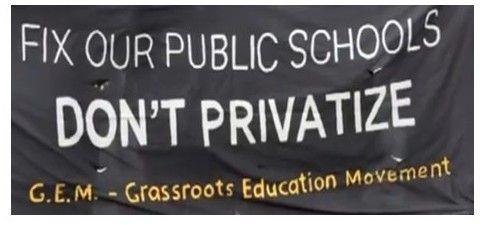 On day CPS to send principals new budgets, parents and residents say their neighborhoods bear brunt of CPS funding cuts and disinvestment while TIF surpluses go to wealthy developers and City pushes costly borrowing schemes over responsible short-term city revenue streams.
CHICAGO—(ENEWSPF)—July 17, 2017. On Thursday, July 20th, the same day that Chicago public school principals expect to receive their budgets for the upcoming school year, the Grassroots Education Movement and Chicago Teachers Union (CTU) will sponsor a two-hour bus tour of Chicago public schools hurt by CPS' disastrous funding shortfall.
The two-hour tour, which leaves from CTU headquarters, 1901 W. Carroll Avenue in Chicago, at 10 AM on Thursday, July 20, will help to illustrate the consequences of unconscionable cuts to neighborhood schools while classroom dollars are diverted for massive TIF subsidies to wealthy developers. The tour will include on-the-ground interviews with parents, students and community residents impacted by CPS' continuing underfunding of neighborhood public schools and the system's growing debt burden and chronic structural deficit.
Chicago's school communities continue to confront dangerous funding shortfalls, an ongoing threat from Governor Rauner to 'amendatorily' veto SB1 – and the refusal of Mayor Emanuel to address CPS' fiscal chaos with a short-term infusion of responsible city revenue streams instead of costly borrowing schemes.
"We need long-term financial stability for a system that has been shortchanged by Mayor Emanuel's hand-picked board and top CPS emergency managers since he took office six years ago," said CTU President Karen GJ Lewis. "To saddle our students and their families with loan shark interest rates on unsustainable debt while continuing to slash desperately needed funds for front-line classroom needs is nothing short of economic and educational terrorism."
Chicago's students deserve adequately funded front-line classroom services and a school system that respects and engages engages families and neighborhood residents, built on best practices and a commitment to adequately fund a high-quality education for our youth. Neighborhood public schools in black and brown communities that suffer from chronic disinvestment and high unemployment are anchors for civic engagement and the long-term vitality of these communities, but CPS has instead chosen to cut funding for classrooms, slash special education, shutter local schools and accrue growing debt at juice loan interest rates that place an even greater economic burden on struggling families and communities. Chicago's students and their families and neighborhoods need sensible, responsible funding mechanisms for the education of our youth – not more debt and less support for quality education for our young people.
Route details for the tour will be made available to attendees at the time of the tour.
PLEASE RSVP via email with Stacy Davis Gates at [email protected] or Chris Geovanis via email at [email protected].
Source: Grassroots Education Movement