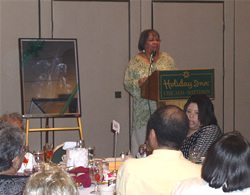 Park Forest, IL—(ENEWSPF)— Accolades continued Sunday for retired Director of Community Relations Barbara Moore, who was honored with a retirement celebration at the Matteson Holiday Inn. Mel Muchnik served as Master of Ceremonies. Moore's colleagues and friends from the Village of Park Forest and the numerous organizations she has been involved with through the years shared reflections. Rev. Daniel O'Sullivan gave the Invocation, and Park Forest Poet Laureate Joseph Woods recited a poem prepared in Ms. Moore's honor.
Others who provided reflections included Joe Martin of Diversity, Inc., John Petruszak of the South Suburbann Housing Center, Chris Klepper of Housing Choice Partners, Judy Lohr of the Park Forest Area League of Women Voters, Beve Sokol of the Unity Coalition, John lukehart of the Center for Urban Research & Learning Loyola University, John Joyce speaking for the National Coalition Building Institute, Alfreda Keller, Chair of the Park Forest Commission on Human Relations, Robin Kelly speaking on behalf of the Diversity Dinners, Barbara McKinley, retired University Park Community Relations Director, and Tom Mick, Park Forest Village Manager.
Tickets for the afternoon included the luncheon and an original painting entitled, "Hope," by Tall Grass Arts Association artist Jan Spivey Gilchrist.