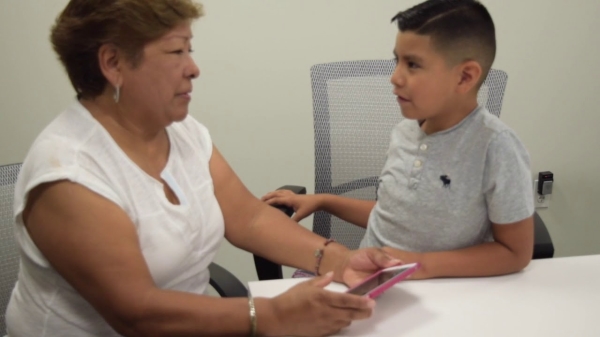 CHICAGO—(ENEWSPF)–September 18, 2017 – Chicago grandmother and long-time immigration activist Genoveva Ramirez sued the Department of Homeland Security (DHS) this morning to demand its immigration service review a long-pending visa application before U.S. Immigration and Customs Enforcement (ICE) deports her in October.
ICE told Ms. Ramirez during a check-in appointment in August that she must purchase plane tickets and leave the United States by October 31, even as she awaits a decision by another DHS agency – U.S. Citizenship and Immigration Services (USCIS) – on whether to grant her U-visa protection.
"As a long-time immigrant activist, I've seen the ways that ICE justify breaking families and communities like mine apart. I've seen how they criminalize and dehumanize us, and I've fought against that. Today, I am suing DHS because I refuse to allow their own internal negligence and processing delays to become another excuse for breaking my family apart," said Ms. Ramirez, who is also a leader with Organized Communities Against Deportations (OCAD) and the Service Employees International Union (SEIU) Local 1.
The 67-year-old grandmother of 10, originally from Mexico, has lived in the United States for nearly two decades. She filed a U-visa application in September 2016 after she and her grandson were physically assaulted during a home invasion and she subsequently assisted in the police investigation. The U-visa is a form of immigration protection available to victims and witnesses of certain crimes who then cooperate in the investigation or prosecution. Delays in the USCIS adjudication process have caused U-visa applicants to wait as much as three years for decisions on their applications, but, as the lawsuit states, "Ms. Ramirez does not have another two years to wait."
"Despite the fact that USCIS and ICE are both sub-agencies of the Department of Homeland Security, ICE has not asked USCIS to expedite Ms. Ramirez's application, nor postponed Ms. Ramirez's deportation while USCIS makes a decision on her application," said Kate Melloy Goettel, litigation attorney at the National Immigrant Justice Center (NIJC), who is representing Ms. Ramirez in her federal lawsuit. "The position she is in now shows the devastating consequences of an immigration system that is totally illogical and broken." In the lawsuit, Ms. Ramirez asks the U.S. District Court of the Northern District of Illinois Court to order USCIS to either make a preliminary determination that she is eligible for a U-visa so that ICE may stay her removal, or adjudicate her application entirely so that she can stay in the United States.
"Chicago ICE Director Ricardo Wong abused his authority and discretion when he denied Ms. Ramirez's request for a stay of removal, but USCIS can and should intervene immediately. USCIS cannot stand by as families like Ms. Ramirez's are torn up because of contradictory protocols and processing delays," added Mony Ruiz-Velasco, Executive Director of PASO-West Suburban Action Project and Ms. Ramirez's immigration attorney.
Ms. Ramirez announced her lawsuit alongside the family of Mr. Wilmer Catalan-Ramirez, another OCAD member, who in May, filed a lawsuit against the Chicago ICE office for its use of excessive force and violence. Mr. Catalan-Ramirez is also suing the City of Chicago and the Chicago Police Department for erroneously placing him in the City's controversial gang database and for its role in colluding to place Mr. Catalan-Ramirez in ICE custody and deportation proceedings.
###
Organized Communities Against Deportations (OCAD) is an undocumented-led group that organizes against the deportation and criminalization of Black, Brown and immigrant communities in Chicago and surrounding areas.
The West Suburban Action Project (PASO) is a grassroots, community-based social justice organization  that builds strong communities through intersectional organizing, leadership development, education and civic engagement so people can live and thrive, regardless of race, immigration status, gender, sexual orientation or socioeconomic level.
The National Immigrant Justice Center (NIJC) is a nongovernmental organization dedicated to ensuring human rights protections and access to justice for all immigrants, refugees, and asylum seekers through a unique combination of direct services, policy reform, impact litigation and public education. Visit www.immigrantjustice.org and follow @NIJC.
Service Employees International Union Local 1 unites 50,000 workers throughout the Midwest including janitors, security officers, higher education faculty, food service workers, and others. Local 1 is committed to improving the lives of its members and all working people by winning real economic justice and standing at the forefront of the fight for immigrant, racial, and environmental justice.
Source: Organized Communities Against Deportations