Kevin Byrne,
Staff Writer for AccuWeather.com
AccuWeather-(ENEWSPF)- There's more than a little trouble in paradise these days, and it's nothing to laugh about. Our friends at AccuWeather report that most of Hawaii's Volcanoes National Park is closing Friday due to the ongoing threat of an explosion at the summit of Kilauea Volcano.
"Due to the possibility of a steam-induced explosion at the summit of Kilauea due to the receding lava lake, an ensuing ash fall event, plus southerly wind patterns forecasted for Friday, the majority of the park will be closed Friday until further notice. We will reopen when it is safe to do so," NPS officials said in a statement.
Only the park's Kahuku unit, an area where visitors can go on guided hiking tours, is expected to remain open. The entire park is more than 333,300 acres in size.
A total of 15 fissures have cracked open since the volcano's eruption on Thursday, May 3. Twenty-six homes and 36 totals structures have been destroyed, whiles hundreds remain evacuated from the Leilani Estates community as dangerous sulfur dioxide gas continues to spew into the air.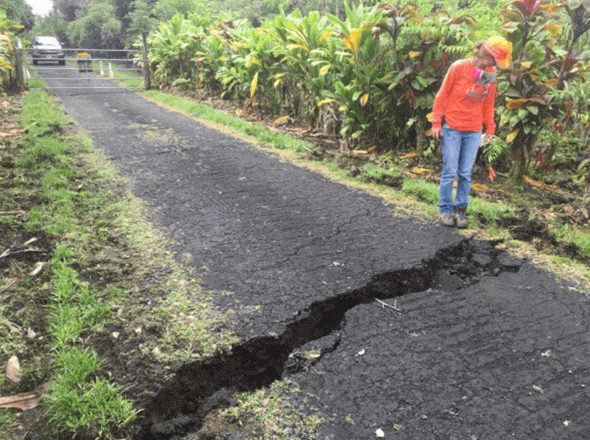 At least 117 acres of the surrounding area is now covered by lava.
Officials with the U.S. Geological Survey's Hawaiian Volcano Observatory said on Thursday, May 10, that lava had stopped erupting from the 15 fissure vents that had formed. However, they said earthquake activity in the area was high.
"High levels of unrest related to the intermittent eruption of lava in Leilani Estates in the lower East Rift Zone of Kilauea Volcano continue," officials said.
The national park closed entirely on May 4 due to strong and damaging earthquakes. No injuries were reported, and about 2,600 visitors were evacuated.
"A magnitude-6.9 earthquake struck at 12:32 p.m. Friday, and caused violent shaking throughout the park. It triggered rock slides on park trails, crater walls, and along sections of Chain of Craters Road," officials said at the time. Just one hour earlier, a magnitude-5.4 earthquake caused a coastal cliff to collapse into the ocean near the Holei Sea Arch."
A partial closure of more than 15,600 acres was instituted on May 2, due to the possibility of an eruption and unstable geologic activity.
The park first opened on Aug. 1, 1916, becoming the 15th national park in the system, and has been designated as an International Biosphere Reserve and a World Heritage Site. In 2017, more than 2 million visitors flocked to the park.
It's easy to see why #KilaueaVolcano is closing @Volcanoes_NPS beginning Friday. It's very active with many steam and dust eruptions overnight. Officials are worried about a major steam driven eruption soon. @breakingweather @accuweather #accuphoto pic.twitter.com/DHgCx0kWEL

— Jonathan Petramala (@jpetramala) May 10, 2018