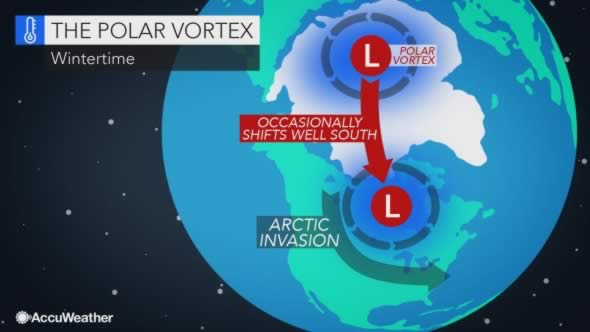 AccuWeather-(ENEWSPF)- The extended winter freeze that so far has pounded entire regions of the U.S. figures to chill the economy, too. AccuWeather estimates a total cost to the economy of up to $14 billion, and while much of that will be recouped, up to $5 billion could be lost permanently.
The hit will occur across a wide swath of the economy, including business, school and museum closings, auto sales, significant insurance claims including ice-related flooding damages, flight and rail cancellations, increased consumer costs for heating oil and natural gas, a decreased demand for gasoline, and lost wages for non-salaried employees, among other impacts.
Several cities and states also have to factor in extensive foul-weather road preparation and snow-removal costs.
In the winter of 2013-14, for example, severe weather throughout the country saw the economy shrink 2.1 percent in the first quarter of 2014. Supply chains and inventory management were affected substantially, leading to fewer consumer purchases and companies buying less than normal as well.
As in past years, this year's foul weather could impact job growth as well as the January output related to industries such as fabricated metal, petroleum and coal, and plastics and rubber.
Chicago, already hit with record-breaking low temperatures as AccuWeather correctly predicted, has seen estimated heating costs rise 6 to 7 percent so far during the first quarter vs. last year and 1 to 2 percent more than the normal costs over the last 30 years. For New York City, heating costs have risen an estimated 2 percent vs. last year.
The good news? The forecast for the rest of the winter is less dire.
"We can assure people that we will not get another cold wave this winter from Chicago eastward that is this severe," said AccuWeather founder and CEO Joel N. Myers. "There will be more bouts of cold weather but nothing nearly this extreme."