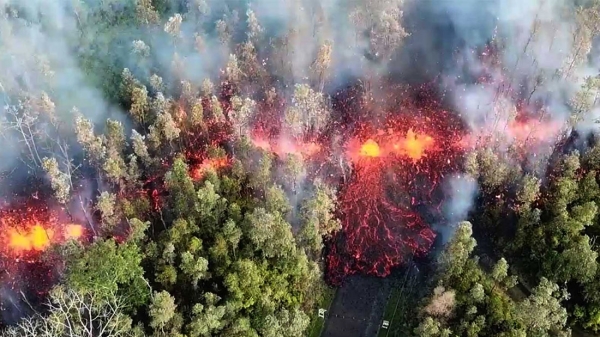 HAWAII—(ENEWSPFP)—May 4, 2018
By: Rosemary Piser
This story may be updated
Hawaii County police, fire, and county agencies, along with the National Guard and partners, continue to assist with an evacuation of the Leilani Estates and Lanipuna Gardens subdivisions in the face of a volcanic eruption in the area. All Leilani Estates and Lanipuna Gardens Subdivision residents are ordered to evacuate immediately.
The volcanic eruption has spewed molten rock and hazardous gas from the ground sending people fleeing from their homes as trees burn and the threat of more destruction is feared.
A temporary flight restriction is in place for most of lower Puna. The Hawaii Police Department reminds the public that drones can be confiscated in the Temporary Flight Restriction Area (TFR). More information is available at www.tfr.faa.gov.
Cracks in Kilauea volcano's rift zone — an area of fissures miles away from the summit — erupted Thursday and early Friday, spurting lava in Leilani Estates, a community of about 1,700 people near the Big Island's eastern edge.
Concerns about sulfur dioxide
The volcanic eruption has released potentially dangerous sulfur dioxide in the evacuation area according to fire department personnel. Exposure to high levels of sulfur dioxide could be life-threatening, according to the federal Agency for Toxic Substances and Disease Registry.
Breathing large amounts of sulfur dioxide could result in burning of the nose and throat and breathing difficulties.
Senior citizens, the young and people with respiratory issues have extra incentive to leave the evacuation zone, because they are especially vulnerable to the gas, the state's Emergency Management Agency said.
Earthquakes
Since Monday, hundreds of earthquakes have been recorded in the area. Most of these earthquakes have been reported around 2.0 magnitude. The series of quakes came after a collapse of a crater floor of Puu Oo.
Since the Puu Oo collapse, about 250 earthquakes were reported in the area into Tuesday evening, according to a Hawaiian Volcano Observatory status report.
The tremors have jarred residents, who've been reporting nearly constant ground vibrations. They have also reported cracks in roads.
The U.S. Geological Survey said the magnitude of the most severe quake ahead of the eruption was 5.0.
Sources: CNN, U.S. Geological Survey, Hawaii Emergency Management