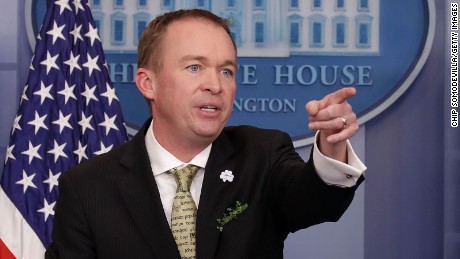 WASHINGTON, D.C. —(ENEWSPF)—February 8, 2018
By: Rosemary Piser
The Consumer Financial Protection Bureau (CFPB) has issued a Request for Information (RFI) seeking comments about the Bureau's enforcement processes. The Bureau is requesting this information in order to help assess the overall efficiency and effectiveness of its enforcement of federal consumer financial law.
This is the third in a series of RFIs announced as part of Acting Director Mick Mulvaney's call for evidence in order to ensure the Bureau is fulfilling its proper and appropriate functions to best protect consumers. This RFI will provide an opportunity for the public to submit feedback and suggest ways to improve outcomes for both consumers and covered entities. The next RFI in the series will address the Bureau's supervisory processes, and will be issued next week.
The RFI on enforcement processes is available at: http://files.consumerfinance.gov/f/documents/cfpb_rfi_enforcement-processes_022018.pdf
The CFPB will begin accepting comments once the RFI is printed in the Federal Register, which is expected to occur on February 12.
More information about the call for evidence is available at: http://www.consumerfinance.gov/policy-compliance/notice-opportunities-comment/open-notices/call-for-evidence/
Note: For purposes of responding to this RFI, you will find a list of articles relating to the CFRB's actions over the past several months. Additional articles can be found on eNews Park Forest (www.enewspf.com) by entering 'Consumer Financial Protection Bureau' in the Search area.
###
The Consumer Financial Protection Bureau is a 21st century agency that helps consumer finance markets work by regularly identifying and addressing outdated, unnecessary, or unduly burdensome regulations; by making rules more effective; by consistently enforcing federal consumer financial law; and by empowering consumers to take more control over their economic lives. For more information, visit consumerfinance.gov.
Source: www.consumerfinance.gov
Related Articles:
Leaving 143 Million Americans Out to Dry, Trump CFPB Backs Off Equifax Probe
Acting Director Mulvaney Announces Call for Evidence Regarding Consumer Financial Protection Bureau Functions
Consumer Financial Protection Bureau Takes Action Against Citibank for Student Loan Servicing Failures that Harmed Borrowers
Consumer Financial Protection Bureau Fines Xerox Business Services $1.1 Million for Providing Incorrect Consumer Information to Credit Reporting Agencies
Consumer Financial Protection Bureau Report Finds Sharp Increase in Riskier Longer-term Auto Loans
Consumer Financial Protection Bureau Finalizes Rule to Stop Payday Debt Traps
Consumer Financial Protection Bureau Supervision Recovers $14 Million in First Half of 2017 for Over 100,000 Consumers Harmed by Illegal Practices
Consumer Financial Protection Bureau Takes Action to Shut Down Credit Repair Company for Charging Illegal Fees and Misleading Consumers