Majorities Support Buy-In Ideas for Medicaid and Medicare
Washington, DC—(ENEWSPF)—September 22, 2017. Among health priorities facing urgent deadlines in Washington in September, the public ranks repeal of the Affordable Care Act lower than reauthorizing funding for the Children's Health Insurance Program (CHIP) and stabilizing individual health insurance marketplaces established by the ACA, the Kaiser Family Foundation's new tracking poll finds.
About seven in 10 Americans — and majorities across parties — say it's "extremely" or "very" important to reauthorize the Children's Health Insurance Program before its funding expires at the end of the month (75%) and to pass legislation to stabilize ACA insurance marketplaces (69%) as the deadline looms for insurers to set 2018 premiums.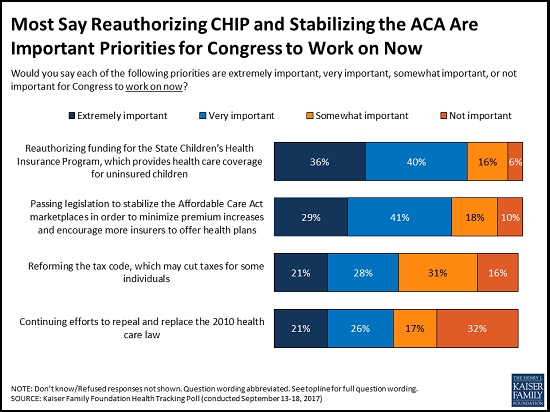 By comparison, just under half (47%) of Americans say it is important to continue efforts to repeal and replace the 2010 health law, despite the Senate's September 30 deadline for passing such a bill with a 51-vote majority. Opinions differ by political party, however, with 71 percent of Republicans rating repeal as important, compared to 28 percent of Democrats and 47 percent of independents.
While Republicans prefer that GOP members of Congress focus on repeal efforts (66%) rather than on improving the way the ACA is working (28%), Democrats would rather their party's Congressional delegation focus on improving the way the ACA is working (52%) over passing a national health care plan (43%). A majority of independents rank improving the ACA's performance higher than focusing on either a national health care plan or ACA repeal.
The poll finds that public opinion on the ACA is divided following the introduction of alternative health bills by both Republicans and Democrats in mid-September. After a gradual increase over the past year, the favorability towards the ACA dropped six percentage points this month, with 46 percent of the public holding a favorable view in September compared to 52 percent in August. The new poll finds 44 percent of Americans have an unfavorable view of the ACA.
Medicaid and Medicare Buy-In Ideas More Popular than Single-Payer
In the days after Sen. Bernie Sanders introduced his "Medicare for all" bill, the poll finds that slightly more than half (54%) of the public favor a single-payer health system, with 43 percent opposing. However, the poll also finds attitudes may be swayed by counter messages.
Ideas for buying into Medicaid and Medicare find more support, although it is unclear where opinions would land after a public debate.
Two-thirds of the public (66%) favor a "Medicaid buy-in" that lets people use government subsidies to purchase health insurance through state Medicaid programs instead of purchasing a private plan through the marketplace. About one in four Americans (26%) oppose the idea.
Six in 10 (63%) of Americans favor a "Medicare buy-in" that allows individuals younger than 65 to buy insurance through Medicare. One-third (33%) oppose.
Among Republicans, 24 percent support a single-payer health plan; 39 percent favor a Medicaid buy-in; and 44 percent favor a Medicare buy-in. By comparison, 70 percent of Democrats support single-payer, 79 percent favor a Medicaid buy-in, and 75 percent favor a Medicare buy-in.
Majority Not Confident the President and Congress will Stabilize Marketplaces
Fielded days before senators ended a bipartisan effort to stabilize the ACA marketplaces, the poll finds that the public generally takes a dim view of the current status and immediate prospects for the ACA marketplaces.
Half say the marketplaces are collapsing, compared to 35 percent who say they're not collapsing and 14 percent who say they don't know.
A majority of the public (69%) say they're "not too confident" or "not at all confident" that President Trump and Congress will be able to work together to improve the marketplaces. Three in 10 Americans (30%) say they're "very" or "somewhat" confident.
Opinions about a proposed step to stabilize the marketplaces vary sharply by political party. A majority (66%) of Americans — including 90 percent of Democrats and 63 percent of independents — support Congress guaranteeing cost-sharing reduction payments to insurance companies to help cover out-of-pocket costs for lower-income people. However, about three in 10 Americans (28%), and more than half of Republicans (53%), say the payments constitute bailouts to insurance companies and should be stopped.
Other poll findings include:
Four in 10 (41%) Americans say actions by President Trump and his administration are generally "hurting" the way the ACA marketplaces are working; 20 percent say their actions are helping and 33 percent say their actions "are not having much impact".
A majority of the public (63%) favor the broad idea of legislation permitting states more flexibility to change their health insurance programs, while three in 10 (31%) oppose. Opinions are subject to change with counter messages.
Designed and analyzed by public opinion researchers at the Kaiser Family Foundation, the poll was conducted from September 13 – 18 among a nationally representative random digit dial telephone sample of 1,179 adults. Interviews were conducted in English and Spanish by landline (404) and cell phone (775). The margin of sampling error is plus or minus 3 percentage points for the full sample. For results based on subgroups, the margin of sampling error may be higher.
Source: www.kff.org